A Landing Page is Different from a Homepage
Your homepage is the mecca of your company. It contains links to everything your visitors could ever want, and the copywriting on it is usually targeted to a general audience. On the contrary, a landing page is very specific. The target audience is clearly defined and the copywriting is short and sweet. Most landing pages do not have links to any other parts of your site, and the only option for the visitor is to fill out a form with their contact information.
Design Several Landing Pages for each Target Market
Whether your customers include numerous demographics or multiple regions, we can create as many perfectly formatted landing pages as necessary. In fact, it's proven that the more landing pages you have, the more qualified leads you will obtain.
Create Intriguing Offers
The main way to gain leads from your landing pages is with enticing, relevant offers such as:
Ebook
Whitepaper
Webinar registration
Newsletter registration
Consultation for professional services
Discount coupon/voucher
Contest entry
A free trial
A physical gift (via direct mail)
Notification of a future product launch
We know the best offers for every market out there, leaving your visitors no choice but to give you their contact information.
The purpose of a landing page falls into two categories:
1. To capture leads that enable you to market to people in the future
2. To "warm up" potential customers to the product you are trying to sell to them before sending them further into your sales funnel.
This creates the need for two types of landing page – a lead generation page and a click-through page.
Lead Generation Landing Pages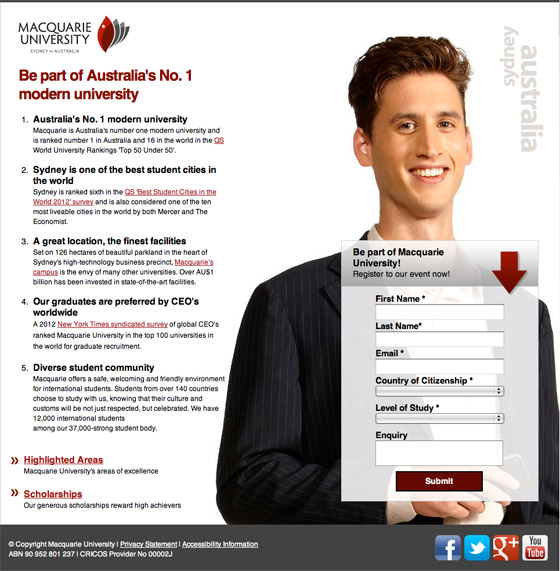 The most valuable piece of information you can get from a lead gen page is someone's email address – which gives you permission to continue talking/marketing to them.
Once you have a lead's permission, you then try to convert them into a customer by combining the two most powerful 1-to-1 communication tools a marketer has – email and landing pages.
Here's an example lead gen form, that's designed to capture user and/or company data in exchange for something – in this case an ebook.
Click-Through Landing Pages
Click-through pages (sometimes called jump pages) are designed as a conduit between a marketing ad and it's final destination. The goal of a click-through page is to "warm-up" the visitor to the product/service you are trying to sell.
Commonly used for ecommerce, click-through pages provide enough information to inform the buyer, making them ready to purchase, before pushing them further down the funnel – probably to a shopping cart or checkout.
Here's an example click-through page. Videos or product images paired with a description and product benefits help to persuade the visitor to click the call-to-action.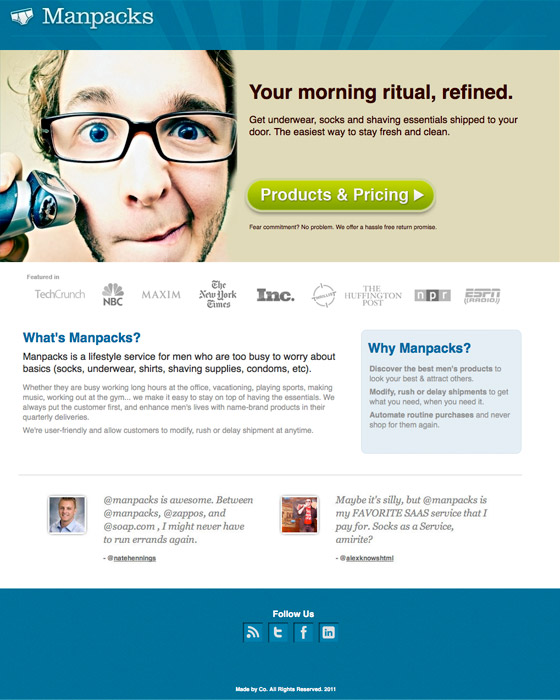 When you let Pyxels Design Studio incorporate multiple landing pages into your digital marketing strategy, you will experience more qualified leads and a better return on your marketing investment.
If that sounds like something you want, contact us today.